Holidays in Tuscany
Arezzo
Arezzo boasts Etruscan origins and it is described by Livy as one of the Etruscan capitals being one of the twelve most important Etruscan cities of that age and part of the Etruscan league. After this domination it was conquered by the Romans, the Lombards and at the beginning of Middle Age it became an episcopal seat. The golden age, as for many other small Italian cities, is the 14th century, the age of "Communes". In fact  in the 1300 Arezzo knew a period of splendor and richness: many of the most famous contemporary artists as Piero della Francesca lived and created there. The heart of the city is Piazza Grande where it is possible to admire the Medieval towers and the amazing Loggiato Vasariano. Arezzo is the city where Francesco Petrarca and Giorgio Vasari were born; Casa Vasari is today a museum where Vasari's masterpieces are collected together with the family archive and some paintings. The church of San Francesco is the ideal point of departure for discovering Piero della Francesca; the church safeguards his masterpiece "The Legend of the true Cross", an amazing sequence of frescoes. Arezzo is well-known for its goldsmith's art and for the Antique fair. It takes place during the first weekend of every month in Piazza Grande since 1968.
Giostra del Saracino:
The tournament  takes place twice a year, on June (Giostra di San Donato) and on September (Giostra della Madonna del Conforto), on Piazza Grande. It is a Medieval reconstruction where the fourth quarters, contrade,  of the city participate.The cavaliers of each quarter must show their ability with a spear against the  "fantoccio-puppet" of Saracino. The first documents concerning similar tournaments date back to 13th century.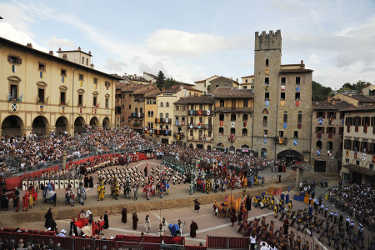 Some of the treasures You will find in Arezzo: Cathedral,  Medici Fortress,  Roman amphitheatre,  Romanesque Parish church of Santa Maria, Church of San Domenico, Museum of Modern and Medieval Arts.