Perugia, located in the region of Umbria, an hour driving from our b&b, boasts Etruscan origins, many Roman settlements and a perfectly preserved Medieval center. Besides its vast artistic heritage, the city hosts international events: The Umbria Jazz Festival is one of the most important venues for Jazz in Europe, held annually in July since 1973, Eurochocolate, usually in October, Music Fest Perugia, festival for young talented musicians, usually in the summer.

Some of the treasures You will find in Perugia: Rocca Paolina, Etruscan town walls, Palazzo dei Priori, Roman Acqueduct.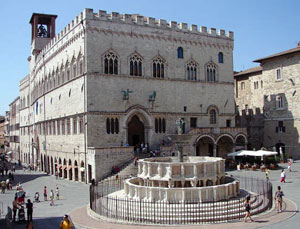 Assisi is the birthplace of the Franciscan Order and  was declared a UNESCO World Heritage Site in 2000. From the Middle Ages the city has been associated with the cult of Saint Francis. The city represents an ensemble of masterpieces of human creative genius, which have made it a fundamental reference for art history in Europe and all over the world.
Some of the treasures You will find in Assisi: Porziuncola Museum, Cathedral Museum and Crypt of St. Rufino, Civic Museum & Roman Forum.