Details

Category: Prices, offers and events
Rates 2018
26.08-30.09
Mint, Cherry, Orange-triple bedrooms, Sunday-Thursday Euro 87,00 
Weekend Euro 118,00
Lavender-quadruple bedroom, Sunday-Thursday Euro 95,00 
Weekend Euro 130,00
Sage, Wisteria-double bedrooms, Sunday-Thursday Euro 67,00 
Weekend Euro 90,00
Sunflower-twin beds bedroom, Sunday-Thursday Euro 69,00 
Weekend Euro 95,00
Poppy-single bedroom, Sunday-Thursday Euro 50,00
Weekend Euro 60,00
01.10-10.10          14.10-30.10
Mint, Cherry, Orange-triple bedrooms, Sunday-Thursday Euro 80,00 
Weekend Euro 118,00
Lavender-quadruple bedroom, Sunday-Thursday Euro 92,00 
Weekend Euro 130,00
Sage, Wisteria-double bedrooms, Sunday-Thursday Euro 60,00 
Weekend Euro 90,00
Sunflower-twin beds bedroom, Sunday-Thursday Euro 63,00 
Weekend Euro 95,00
Poppy-single bedroom, Sunday-Thursday Euro 45,00 
Weekend Euro 60,00
04.11-06.12      09.12-20.12
Mint, Cherry, Orange-triple bedrooms, Sunday-Thursday Euro 72,00
Weekend Euro 118,00
Lavender-quadruple bedroom, Sunday-Thursday Euro 85,00 
Weekend Euro 130,00
Sage, Wisteria-double bedrooms, Sunday-Thursday Euro 53,00 
Weekend Euro 90,00
Sunflower-twin beds bedroom, Sunday-Thursday Euro 55,00 
Weekend Euro 95,00
Poppy-single bedroom, Sunday-Thursday Euro 39,00 
Weekend Euro 60,00
Festivities and Holidays:
05.08-25.08     11.10-13.10     31.10-03.11      07.12-08.12       21.12-06.01
Mint, Cherry, Orange-triple bedrooms Euro 125,00
Lavender-quadruple bedroom  Euro 138,00
Sage, Wisteria-double bedrooms Euro 94,00
Sunflower-twin beds bedroom Euro 100,00
Poppy-single bedroom Euro 68,00
On weekend (Saturday and Sunday morning), Festivities and Holidays the buffet breakfast is included in the rates.
From Monday morning until Friday morning the Italian breakfast is available at extra cost of Euro 5,00 per person.
Summer events
Leonina sunset
Are you fond of naturalistic holidays? So what about walking at sunset on the beaten paths of the Crete senesi area? Thanks to Vademecum Tours every Wednesday of July and August you will have the chance of discovering the magic and beauty of our territory. More info:
Thanks to "Il paese del garbo" travels agency every Thursday You can discover Asciano and every Friday the museums of the this amazing Tuscan village.Here you have all the information. Enjoy!
Details

Category: Prices, offers and events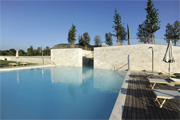 The thermal baths of Rapolano Terme are located 4 kms away from the tiny village of Serre di Rapolano, where Antico Granaione b&b is situated, a short walk, a ride or, if you prefer, five minutes driving.
The waters of the two SPAS, Antica Querciolaia and San Giovanni, are perfect for a weekend of "bien être" surrounded by the enchanting landscapes of Crete Senesi. Many of our guests choose this area of Tuscany for this aspect and we are glad to offer them a special discount on admission tickets to the swimming pools of Rapolano Terme. Ask the reception for the voucher and for information you may need at moment of arrival.