Details

Category: Prices, offers and events
Our guests' reviews:
"Antico Granaione was a wonderful place to stay. The bedroom, bathroom, dining and lounging areas were clean, comfortable, and welcoming. Amedeo and Roberta were quick to respond to any of our needs and were a pleasure to converse with. The bnb is located in a small Italian village that shows off the architecture of medieval times gone by and has impressive views showing off its elevation on the hillside it is located. The breakfast served is a wonderful variety of local pastries, fruits, cheeses, meats, coffees and juices and we woke up to mouthwatering smells every morning. There is a wonderful restaurant within walking distance and we felt completely safe where ever we went. Shopping and more restaurants are a quick 5-10 minute drive away. The bnb is also very central to Rome(2H), Florence(1.5H), Sienna(45min), and several natural thermal sites/spas. We stayed in Rome our last two days and I wished we had commuted back and forth. I definitely enjoyed out time at the bnb over that of an upper level hotel in the heart of Rome. While the commute to Rome is a bit on the long side; the smells, noise, decreased comfort, and lack of personal service left me wanting to be back at Antico Granaione. Antico Granaione does a great job of making you feel welcome as if you were friends or family not simply a guest. If I ever make it back to the Tuscany area of Italy, I would be sure to stay there again. Can't say enough good things about it. " Bonny
"Very lovely B&B in a wonderful old city". Jean-Marc
"Simply perfect!" Eleonora
"This listing is located in the old, historic section of town just find the museum and the host will meet you there. Facility is nicely updated and spotless. Guests have the use of the breakfast room and an entertainment/living room on a different floor, no problem with noise. You will need to climb quite a few steps. The hosts (we talked to Amadeo on the phone and met his wife and "assistant") were helpful and pleasant. Wonderful breakfast with homemade bread and cappuchinos in addition to the usual cheese, cured meats, cereal, yogurt and fruit. In a word, charming!" Mark
   Crete Senesi, the heart of Tuscany.
If You are thinking about spending a holiday in Tuscany here You have some suggestions to combine excellent food, thermal wellness, trekking, culture: Rapolano Terme,  Asciano, Buonconvento, Monteroni d'Arbia, San Giovanni d'Asso are waiting for You.
Itineraries

Serre di Rapolano, 30 minutes driving from Siena, is the perfect point of departure for
visiting the magnificent Monte Oliveto Maggiore Abbey,
choosing a cultural itinerary in the several museums of Crete Senesi area,
relaxing at the thermals baths,
walking and cycling on the so called "Strade bianche" the dirt roads that go through  hills, clays and cypresses,
playing golf at  Valdichiana Golf club,
shopping at  Valdichiana Mall,
having fun with kids at  Saltalbero Park Adventure of Rapolano Terme.
Details

Category: Prices, offers and events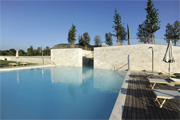 The thermal baths of Rapolano Terme are located 4 kms away from the tiny village of Serre di Rapolano, where Antico Granaione b&b is situated, a short walk, a ride or, if you prefer, five minutes driving.
The waters of the two SPAS, Antica Querciolaia and San Giovanni, are perfect for a weekend of "bien être" surrounded by the enchanting landscapes of Crete Senesi. Many of our guests choose this area of Tuscany for this aspect and we are glad to offer them a special discount on admission tickets to the swimming pools of Rapolano Terme. Ask the reception for the voucher and for information you may need at moment of arrival.