Details

Category: Prices, offers and events
       Price List 2019
We would like to remind our guests that from Monday morning until Friday morning, an Italian breakfast is available at Euro 5.00 per person.
On Weekend and Holiday seasons the buffet breakfast is included in the rates.
 
January 7th-April 17th
Mint, Orange, Cherry, triple rooms, Euro 72.00  Weekend Euro 115.00
Lavender, quadruple room Euro 85.00  Weekend Euro 125.00

Sage, Wisteria double rooms Euro 53.00  Weekend Euro 88.00

Sunflower, double room Euro 55.00  Weekend Euro 90.00

Poppy, single room Euro 39.00  Weekend Euro 57.00

April 18th-May 4th
minimum stay 2 nights
Mint, Orange, Cherry, triple rooms, Euro 125.00
Lavender, quadruple room Euro 138.00
Sage, Wisteria double rooms Euro 94.00
Sunflower, double room Euro 100.00
Poppy, single room Euro 68.00
May 5th-May 23rd
Mint, Orange, Cherry, triple rooms, Euro 80.00 Weekend Euro 115.00
Lavender, quadruple room Euro 92.00  Weekend Euro 125.00
Sage, Wisteria double rooms Euro 60.00  Weekend Euro 88.00
Sunflower, double room Euro 63.00  Weekend Euro 90.00
Poppy, single room Euro 45.00  Weekend Euro 57.00

May 24th-July 31st
Mint, Orange, Cherry, triple rooms, Euro 87.00 Weekend Euro 115.00
Lavender, quadruple room Euro 95.00 Weekend Euro 125.00
Sage, Wisteria double rooms Euro 67.00 Weekend Euro 88.00
Sunflower, double room Euro 69.00 Weekend Euro 90.00
Poppy, single room Euro 50.00 Weekend Euro 57.00

August 1st-24th (minimum stay 2 nights)
Mint, Orange, Cherry, triple rooms, Euro 125.00
Lavender, quadruple room Euro 138.00
Sage, Wisteria double rooms Euro 94.00
Sunflower, double room Euro 100.00
Poppy, single room Euro 68.00
August 25th-September 28th
Mint, Orange, Cherry, triple rooms, Euro 87.00  Weekend Euro 115.00
Lavender, quadruple room Euro 95.00  Weekend Euro 125.00
Sage, Wisteria double rooms Euro 67.00  Weekend Euro 88.00
Sunflower, double room Euro 69.00  Weekend Euro 90.00
Poppy, single room Euro 50.00  Weekend Euro 57.00

September 29th-October 16th
Mint, Orange, Cherry, triple rooms, Euro 80.00  Weekend Euro 115.00
Lavender, quadruple room Euro 92.00  Weekend Euro 125.00
Sage, Wisteria double rooms Euro 60.00  Weekend Euro 88.00
Sunflower, double room Euro 63.00  Weekend Euro 90.00
Poppy, single room Euro 45.00  Weekend Euro 57.00
October 17th-19th (minimum stay 2 nights)
Mint, Orange, Cherry, triple rooms, Euro 125.00
Lavender, quadruple room Euro 138.00
Sage, Wisteria double rooms Euro 94.00
Sunflower, double room Euro 100.00
Poppy, single room Euro 68.00
October 20th-30th
Mint, Orange, Cherry, triple rooms, Euro 80.00 Weekend Euro 115.00
Lavender, quadruple room Euro 92.00  Weekend Euro 125.00
Sage, Wisteria double rooms Euro 60.00  Weekend Euro 88.00
Sunflower, double room Euro 63.00  Weekend Euro 90.00
Poppy, single room Euro 45.00  Weekend Euro 57.00

October 31st-November 2nd (minimum stay 2 nights)
Mint, Orange, Cherry, triple rooms, 125.00 Euro
Lavender, quadruple room Euro 138.00
Sage, Wisteria double rooms Euro 94.00
Sunflower, double room Euro 100.00
Poppy, single room Euro 68.00
         
November 3rd-December 19th
Mint, Orange, Cherry, triple rooms, Euro 72.00  Weekend Euro 115.00
Lavender, quadruple room Euro 85.00  Weekend Euro 125.00

Sage, Wisteria double rooms Euro 53.00  Weekend Euro 88.00

Sunflower, double room Euro 55.00  Weekend Euro 90.00

Poppy, single room Euro 39.00  Weekend euro 57.00

December 27th-31st (minimum stay 3 nights)
Mint, Orange, Cherry, triple rooms, Euro 125.00
Lavender, quadruple room Euro 138.00
Sage, Wisteria double rooms Euro 94.00
Sunflower, double room Euro 100.00
Poppy, single room Euro 68.00
2020, January 1st-6th  (minimum stay 2 nights)
Mint, Orange, Cherry, triple rooms, Euro 125.00
Lavender, quadruple room Euro 138.00
Sage, Wisteria double rooms Euro 94.00
Sunflower, double room Euro 100.00
Poppy, single room Euro 68.00
Our guests have at their disposal vouchers for reduced price admission to the thermal pools of Rapolano Terme and thanks to the free early check-in much more time to spend at the SPA!
Details

Category: Prices, offers and events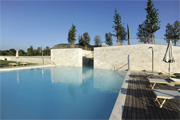 The thermal baths of Rapolano Terme are located 4 kms away from the tiny village of Serre di Rapolano, where Antico Granaione b&b is situated, a short walk, a ride or, if you prefer, five minutes driving.
The waters of the two SPAS, Antica Querciolaia and San Giovanni, are perfect for a weekend of "bien être" surrounded by the enchanting landscapes of Crete Senesi. Many of our guests choose this area of Tuscany for this aspect and we are glad to offer them a special discount on admission tickets to the swimming pools of Rapolano Terme. Ask the reception for the voucher and for information you may need at moment of arrival.