Details

Category: Prices, offers and events
Rates 2018
01.05-27.05          01.10-10.10          14.10-30.10
Mint, Cherry, Orange-triple bedrooms, Sunday-Thursday Euro 80,00 
Weekend Euro 118,00
Lavender-quadruple bedroom, Sunday-Thursday Euro 92,00 
Weekend Euro 130,00
Sage, Wisteria-double bedrooms, Sunday-Thursday Euro 60,00 
Weekend Euro 90,00
Sunflower-twin beds bedroom, Sunday-Thursday Euro 63,00 
Weekend Euro 95,00
Poppy-single bedroom, Sunday-Thursday Euro 45,00 
Weekend Euro 60,00
28.05-04.08    26.08-30.09
Mint, Cherry, Orange-triple bedrooms, Sunday-Thursday Euro 87,00 
Weekend Euro 118,00
Lavender-quadruple bedroom, Sunday-Thursday Euro 95,00 
Weekend Euro 130,00
Sage, Wisteria-double bedrooms, Sunday-Thursday Euro 67,00 
Weekend Euro 90,00
Sunflower-twin beds bedroom, Sunday-Thursday Euro 69,00 
Weekend Euro 95,00
Poppy-single bedroom, Sunday-Thursday Euro 50,00
Weekend Euro 60,00
04.11-06.12      09.12-20.12
Mint, Cherry, Orange-triple bedrooms, Sunday-Thursday Euro 72,00
Weekend Euro 118,00
Lavender-quadruple bedroom, Sunday-Thursday Euro 85,00 
Weekend Euro 130,00
Sage, Wisteria-double bedrooms, Sunday-Thursday Euro 53,00 
Weekend Euro 90,00
Sunflower-twin beds bedroom, Sunday-Thursday Euro 55,00 
Weekend Euro 95,00
Poppy-single bedroom, Sunday-Thursday Euro 39,00 
Weekend Euro 60,00
Festivities and Holidays:
05.08-25.08     11.10-13.10     31.10-03.11      07.12-08.12       21.12-06.01
Mint, Cherry, Orange-triple bedrooms Euro 125,00
Lavender-quadruple bedroom  Euro 138,00
Sage, Wisteria-double bedrooms Euro 94,00
Sunflower-twin beds bedroom Euro 100,00
Poppy-single bedroom Euro 68,00
On weekend (Saturday and Sunday morning), Festivities and Holidays the buffet breakfast is included in the rates.
From Monday morning until Friday morning the Italian breakfast is available at extra cost of Euro 5,00 per person.
Past events:
Demo cooking: a great thank You for staying with us! Friends from United States passionate about Tuscany are always welcome at Antico Granaione. On this special occasion our chef Patrizia has arranged a demo cooking of Maltagliati hand made pasta, with the precious collaboration of our Ludovica. After the course guests have enjoyed Tuscan recipes paired with Chianti wines!
Bike&Dinner: a fantastic group of Dutch guests have chosen the Crete senesi area for their biking excursions and our b&b to enjoy a typical Tuscan dinner. Thank You and come back soon!
Claudio Piccoli photographer
We are glad to announce that Claudio Piccoli will be our guest on the occasion of his photographic workshop in the "Crete Senesi" area. If You are photos and dogs lovers we suggest you to take a look at his amazing website: http://www.claudiopiccoli.com/
After the workshop in Rapolano Terme Claudio Piccoli will fly to Germany, Canada, Switzerland, UK and Italy again!
Details

Category: Prices, offers and events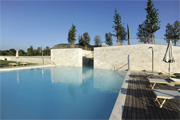 The thermal baths of Rapolano Terme are located 4 kms away from the tiny village of Serre di Rapolano, where Antico Granaione b&b is situated, a short walk, a ride or, if you prefer, five minutes driving.
The waters of the two SPAS, Antica Querciolaia and San Giovanni, are perfect for a weekend of "bien être" surrounded by the enchanting landscapes of Crete Senesi. Many of our guests choose this area of Tuscany for this aspect and we are glad to offer them a special discount on admission tickets to the swimming pools of Rapolano Terme. Ask the reception for the voucher and for information you may need at moment of arrival.